The good thing about a stencil is that it doesn't necessarily have to be the typical "stencil" you find at the store. If you're lucky enough to have a circuit machine, making your own stencil isn't a problem, but let's be honest, not all of us can afford a circuit machine. Don't get me wrong, I'd love one but I have that dang Zumba box sitting in my closet that I used once and I really don't want to hear it from Sammy any more than I have to.
The good thing is there are also lots of tutorials online that show you how you can make your own stencil using different mediums, for example using transparencies or vinyl.
Now if you are super gung ho and have the time and patience, you can make one like this:
http://www.sawdustandembryos.com/2012/04/tutorial-how-to-make-your-own-stencil.html
Or, if you're on a budget, you can go to the dollar store, buy some shelf liner and go that route.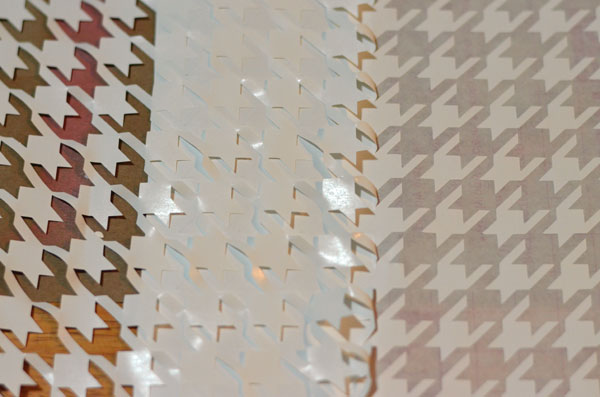 http://createandbabble.com/make-your-own-stencil-using-contact-paper/
The problem I've found in both cases is with the transparency, you still have to go out and buy the entire box of transparencies and may only use one and in most cases it still bleeds. And with the shelf liner, sometimes it's hard to do anything other than one big shape.
Again, both in my experience!
What I want to show you on the other hand, is how to use something simple, as a stencil. Maybe even something you have on hand now.
************************
The other day, I found a stencil I knew would be perfect for this drab table I've had on hand that wasn't quite "finished":
I didn't know exactly what it needed but when I saw these two notepads in the $1 bin at Michael's, I thought now would be a great time to try out some stenciling (besides, I've had this table forever and it was free, so why not?!)
I decided to use the purple one and create a lace overlay on my table.
And just so you know, I didn't have a stenciling brush so I just used a wide paintbrush. It still worked, I just didn't use SO much paint so it wouldn't bleed everywhere!!
(and yes, I have fat, ugly hands)
I just alternated the stencil various ways and this is what I came up with.
I used a small stencil for the border that I had on hand. I never thought I'd have a chance to use it because it was so small, and really thought it was pretty much useless! It turns out it worked perfectly for this lace overlay effect. So I guess it wasn't too useless after all (go figure!)
I still can't decide how I feel about this table. It's kind of out of the norm for me, but again, it didn't cost much to create and I'm all about that!! Let me know what you think and if you make something with a "do it yourself" stencil, send me a pic! I'd love to see what you come up with!
See you tomorrow for my Thursday treasure!
Rita